V
Practice Profile
Legal 500 2021

Antonia is listed in the Legal 500 2021 as a leading junior for property litigation: "Proactive providing excellent pleadings along with robust advocacy. Her great advocacy skills mean she is always a match to anyone. She possesses a great deal of practical ability."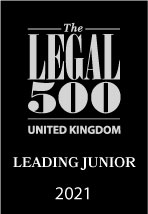 Practice profile
Antonia practices in all areas of commercial chancery litigation, specialising in property and insolvency. Her property work includes all aspects of commercial and residential landlord and tenant, trespass, dilapidations and disrepair, lease renewals, TOLATA claims, adverse possession, nuisance claims, service charges and boundary disputes.
Antonia has been instructed in numerous commercial disputes including breach of contract, professional negligence, misrepresentation and Consumer Credit Act claims and has represented many clients in obtaining injunctions and damages. A recent ex parte application involved the repossession of a church.
Antonia's recent insolvency work includes successfully setting aside statutory demands, defending bankruptcy petitions, applications to annul, vesting order applications and resisting the presentation of winding up petitions.
Antonia is commended by clients for her attention to detail and approachability. She quickly gains the appreciation of what the client wants to achieve providing pragmatic advice. Antonia has been regularly praised for her forceful and persuasive advocacy.
In appropriate circumstances, Antonia accepts direct access instructions and also offers continuing education seminars.
Notable Cases
Wilkins v Mund
Represented the Applicant in proceedings before the Land Registration Division of the First Tier Tribunal. Successfully obtained a restriction over property held in the sole legal name of the Respondent, on the basis of a beneficial interest.
Bowes v Norman
Successfully represented the Claimant in a TOLATA matter in obtaining a declaration that a property was owned in equal shares and an order for sale.
Bright Buy v Bruce
Acted for the Defendant who asserted an unfair relationship pursuant to S140A of the Consumer Credit Act 1974 in defence to a claim for possession.
Bouchiba v Turner
Represented the Defendant in TOLATA proceedings concerning sale of a property and equitable accounting.
Arora v Yazdi
Successfully represented the Applicant in reducing service charges payable by a residential long leaseholder in proceedings before the First Tier Tribunal (Property Chamber).
Varghai v Foster
Represented the Defendants in opposing a claim for possession on the basis of a counterclaim for disrepair.
Mallatratt v Broadbent
Successfully asserted that an interest under a charge is an "Interest in a dwelling house" for the purposes of S283A of the Insolvency Act 1986
Reported Cases
[2019] EWHC 1229 (TCC)
(1) MANSING MOORJANI (2) SAMIR YOUSF (3) LENA YOUSF (4) NADIA SEIFELDIN V (1) DURBAN ESTATES LTD (2) IVOR COURT FREEHOLD LTD (2019)
Represented the 1st Claimant (leaseholder) in opposing an application by the 1st Defendant (freeholder) to strike out his claim for damages following the freeholder's alleged breach of its repairing obligations on the basis that it was barred by cause of action estoppel and merger
Memberships
Lincoln's Inn
Property Bar Association
Women in Property
LCLCBA
Education
BVC The College of Law (Bloomsbury)
MA Hons (Oxford University – Hertford College) Jurisprudence
Berkhamsted School
Languages
Italian - Intermediate